Remember when you were a kid and your parents took you to Lake Tahoe?
Are you looking to recapture that old familiar friendly atmosphere? Perhaps you want to enjoy a romantic evening by the lake?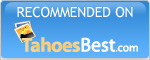 We offer the cleanest rooms and our entire staff is dedicated to making your stay the best Tahoe has to offer! Come make our home your family vacation getaway!

Is the lake a little too cold to swim? During the summer, we've got the largest and most comfortably heated pool on the North Shore, the majority of the time at a pleasant 72 degrees! On the lake, we have our own private pier; buoys and stunning private sandy beaches for our guests only, with a boat launch right next door!

Stroll along the beach to enjoy the amazing Tahoe sunsets, or simply relax and enjoy the atmosphere in an Adirondack chair, from the comfort of your deck or porch.
Pier (click to enlarge)
The Franciscan Lakeside Lodge, on the North Shore of beautiful Lake Tahoe, is the favorite place to stay for locals and visitors alike!!!

We offer cozy, clean and comfortable lakefront cottages, lakeside suites and studios! In the pines, across the street and just 75 yards from the lake, there are cozy studios, one and two bedroom suites (some with fireplaces!) complete with new lodgepole pine furnishings, patchwork quilts, valances and curtains are just some of the touches that give the "Old Tahoe" feeling. Along with brand new comfort touches of big flat screen t.v.'s, new carpet, many remodelled kitchens and baths, decor, stainless steel BBQ's, pillow topper beddings and so much more!  Lifetime memories are just a phone call away.
All cottages, suites and rooms have fully equipped kitchenettes, complete with all necessary utensils, a full oven with stovetop, cabinet space, microwave, full or mini-fridge, dishwasher, coffeemaker and toaster... even the kitchen sink! Don't feel like cooking? There are several fabulous restaurants within walking distance. Come enjoy the same low family prices and have memories that will last forever!
If you're here, you are family!
We also provide daily, fresh room coffee and tea upon request.
For you skiers and riders, world class fun at Squaw Valley, Alpine Meadows, Northstar and various others are located within easy driving distance. Don't be fooled by the words "Ski Package"; we sell discounted lift tickets at cost, and our room prices beat the packages when based upon double occupancy.